A Fully-Customized Negotiating Seminar for Sales Groups
Ed Brodow kicks off the
Sales Management Forum
in Athens, Greece



A Bottom Line Sales Seminar
In today's competitive environment, your customers are training their buyers to win every possible concession from your sales force: pricing, delivery, service options, you name it. When your salespeople are not trained to respond, your bottom line will suffer.

Sales Negotiation Boot Camp®, a fully-customized negotiating skills training seminar created by PBS negotiation expert Ed Brodow, will teach your sales force how to create satisfied customers at higher prices. According to Ed, the most satisfied customers are the ones who pay top dollar because they appreciate the value of their investment. Successful sales negotiators exude confidence, focus on perceived value, and aren't afraid to say NO. Your sales force will stop discounting after they learn how to turn customer price objections into value-based sales. Sales Negotiation Boot Camp® produces bottom line results!

In the year after Negotiation Boot Camp, our average sales price increased by a whopping 59 percent. There is no doubt that Ed's seminar was a major contributor -- our salespeople learned how to negotiate customer price objections.
LANDesk Software, Inc.
Customization: This Sales Negotiation Seminar Is About You
The main selling point of Sales Negotiation Boot Camp® is the extensive customization. Many hours are spent interviewing your sales force to learn how they negotiate. Role-playing exercises are written specifically for your group. These in-depth case studies incorporate your real-life sales negotiations, including: your product/service specifications; your pricing; your customers; your competitors; and your industry buzz words. Participants develop their sales negotiating skills by interacting with one another in the identical situations they encounter on the job. Customization is crucial to the learning process and the reason why Sales Negotiation Boot Camp® has been the seminar of choice for smart companies like Microsoft, The Hartford, Starbucks, Cisco Systems, Quest Diagnostics, The Gap, Johnson & Johnson, EDS, and Heartland Financial.

Everything -- all of the pre-seminar work as well as the actual presentation itself -- is done by Ed Brodow personally, not by a subcontractor. His sales negotiating seminars are talked about for years because of the personalized time and effort Ed devotes to satisfying each client. A typical comment from seminar attendees is: "How does he know so much about our company?" Brodow's response: "Because I cared enough to do the homework!"

Negotiation Boot Camp was a huge success that far exceeded expectations. It was evident from the material you created and delivered that you had put in many, many hours of researching our industry, our distribution system and our customer base. The word 'customization' does not do justice to the end product you delivered.
The Hartford Insurance Co.
Seminar Description
Ed offers individual attention
during customized case studies
Sales Negotiation Boot Camp® is built around customized, interactive role-playing case studies -- supported by lecture, discussion, and entertaining video clips. Content ranges from dealing with buyer tactics to proven techniques for upgrading listening skills. The strategies and tactics are practical and real-world -- participants are able to use them immediately to improve your company's bottom line.

Sales Negotiation Boot Camp® is available at your location for a half day (or less) or a full day. Each seminar is presented by Ed Brodow, author of Negotiation Boot Camp: How to Resolve Conflict, Satisfy Customers, and Make Better Deals and negotiation guru on PBS. Clients agree that this sales negotiating seminar is in a class by itself.
Your ability to adapt your presentation to our market, address our specific needs, and even understand our competitors was impressive to say the least. I can't thank you enough.
Infogain Corporation
Sales Negotiation Boot Camp® includes:
Creating satisfied customers for your products/services at higher prices
Buyer tactics: What to do when the buyer says, "You're too expensive!"
How to say NO
Convincing a hostile buyer to work with you instead of against you
Preparing for your next sales negotiation
Differentiating yourself from the competition
Zeroing in on the buyer's pressure
How to ask questions and listen
Seller's concession making techniques
The Columbo Method for finding out what the buyer is thinking
Overcoming intimidation and emotional obstacles
Principles of consultative selling
Managing the buyer's expectations
Focusing on perceived value
The Three Rules for Win-Win Negotiating
Contract negotiations
Surviving the bidding process
Distinguishing real issues from entrenched positions
Developing long-term customers

To book a sales negotiating seminar or obtain more information, contact us via email at ed@brodow.com.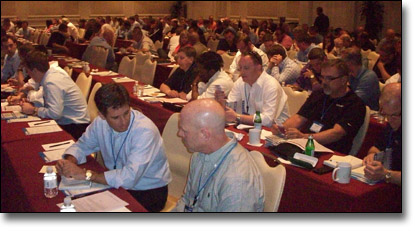 Las Vegas: Uponor sales team in the heat of customized role-play
---
Negotiation Boot Camp®

(831) 372-7270

ed@brodow.com
Home | Seminars | Sales Seminars | Webinars | Keynotes | Clients | Ed Brodow Bio | Books & DVDs | Articles | Video
Negotiation Boot Camp® is a registered Service Mark of Ed Brodow.
Copyright © 2001-2017 Ed Brodow. All rights reserved.