Negotiation Training Seminars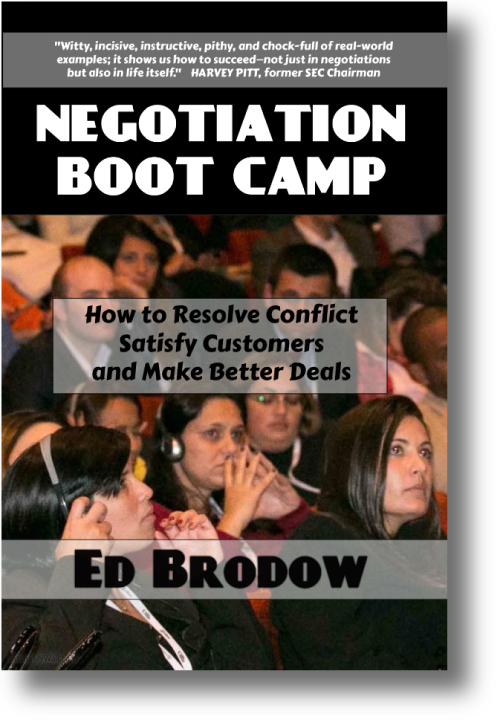 Negotiation Boot Camp® is the number one customized negotiation training seminar in the United States. Sellers learn how to create satisfied customers at higher prices, buyers learn how to make better deals with vendors, and executives learn how to resolve conflict.
For two decades, Negotiation Boot Camp® has set the standard for "how to make a deal" in corporate America. Each negotiation seminar is built around interactive role-playing exercises that are written exclusively for your group. Find out more about the Negotiation Boot Camp® Seminars.

Negotiation Boot Camp® has received the highest evaluations from Microsoft, The Hartford, Baker Hughes, Goldman Sachs, Cisco Systems, Raytheon Aircraft, IBM, Juno Online Services, Philip Morris, The GAP, Huntington Bank, Quest Diagnostics, Seagate Technology and countless others. Read comments from a few of these clients. Read Ed Brodow's interview with the president of Wood Group ESP.

Ed Brodow, creator of Negotiation Boot Camp®, is the nation's most innovative expert on the art of negotiation.


To book a negotiation training seminar email us at ed@brodow.com.



Thank you for the terrific Negotiation Boot Camp seminar. Our employees have never been so excited after any other training event! The survey results from all participants have raised the bar for quality training in our organization.
Siemens
---
Negotiation Boot Camp®

(831) 372-7270

ed@brodow.com
Home | Seminars | Sales Seminars | Webinars | Keynotes | Clients | Ed Brodow Bio | Books & DVDs | Articles | Video
Negotiation Boot Camp® is a registered Service Mark of Ed Brodow.
Copyright © 2001-2017 Ed Brodow. All rights reserved.