A Fully-Customized In-House Negotiating Seminar
| | |
| --- | --- |
| | |
| | Courtesy of PBS-TV |
A Business Seminar that Delivers Results
Negotiation seminars have the highest ROI of any business subject. Our clients call it RON: Return On Negotiation! In today's competitive environment -- whether you are in senior management, sales, purchasing, legal, IT, contracts, finance, or any other business competency -- the ability to negotiate is more important than ever before. Negotiation Boot Camp® is a fully-customized negotiating skills training seminar created by PBS negotiation expert Ed Brodow. In Negotiation Boot Camp®, sellers learn how to create satisfied customers at higher prices, buyers learn how to make better deals with vendors, and executives learn how to resolve conflict. Negotiation Boot Camp® produces bottom line results!

Brodow demonstrated a rare talent for distilling the complex and essential elements of a skilled negotiation process. Our managers found that the concepts and approaches could be immediately applied to their jobs.
National Semiconductor
Customization: This Negotiation Seminar Is About You
The main selling point of Negotiation Boot Camp® is the extensive customization. Many hours are spent interviewing your participants to learn how they negotiate. Role-playing exercises are written specifically for your group. These in-depth case studies incorporate your real-life negotiations, including: your product/service specifications; your pricing; your customers and suppliers; your competitors; and your industry buzz words. Participants develop their negotiating skills by interacting with one another in the identical situations they encounter on the job. Customization is crucial to the learning process and the reason why Negotiation Boot Camp® has been the seminar of choice for smart companies like Goldman Sachs, Philip Morris, ConAgra, Seagate, Zurich Insurance, KPMG, Baker Hughes, Kimberly-Clark, and Raytheon.

Everything -- all of the pre-seminar work as well as the actual presentation itself -- is done by Ed Brodow personally, not by a subcontractor. His negotiating seminars are talked about for years because of the personalized time and effort Ed devotes to satisfying each client. A typical comment from seminar attendees is: "How does he know so much about our company?" Brodow's response: "Because I cared enough to do the homework!"

The extent to which Ed captured the uniqueness and terminology of our business in the customized case studies and situational exercises added immense credibility.
Cessna Aircraft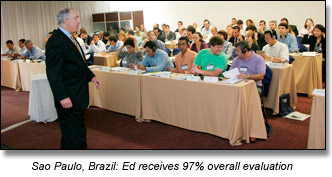 Seminar Description
Negotiation Boot Camp® is built around customized, interactive role-playing case studies -- supported by lecture, discussion, and entertaining video clips. Content ranges from the traditional concepts of hardball negotiating to cutting-edge material that includes The Three Rules for Win-Win Negotiating and techniques for communicating constructively. The strategies and tactics are practical and real-world -- participants are able to use them immediately to improve assertiveness, listening skills, problem-solving, and the ability to reach profitable agreements.

Negotiation Boot Camp® is available at your location for a half day (or less), a full day, or two full days -- whatever your training timeframe calls for. Each seminar is presented by Ed Brodow, author of Negotiation Boot Camp: How to Resolve Conflict, Satisfy Customers, and Make Better Deals and negotiation guru on PBS. Clients agree that this negotiating seminar is in a class by itself.
Negotiation Boot Camp was, without doubt, the best class on negotiation that I have ever attended. The major reason that your material was so effective was the degree of preparation and thought that you put into the case studies and exercises.
JD Edwards World Solutions/Oracle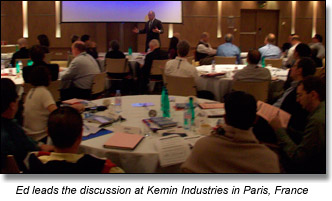 Topics included in Negotiation Boot Camp®:
The ten traits of successful negotiators

Getting others to give you what you want and thank you for it

Convincing a hostile opponent to work with you instead of against you

Preparing for your next negotiation

How to set winning goals

Recognizing negotiation tricks and tactics before it's too late

The Three Rules for Win-Win Negotiating

Making concessions smartly

The Columbo Method for finding out what the other negotiator is thinking

Overcoming intimidation and emotional obstacles

Selling your products/services at higher prices

Negotiating with a sole source

Communicating your ideas constructively

Dealing with anger

Distinguishing real issues from entrenched positions

Individual and team strategies

Understanding the psychology of the buyer and the seller

To book a negotiating seminar or obtain more information, contact us via email at ed@brodow.com.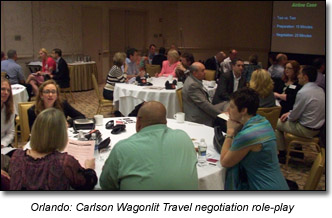 ---
Negotiation Boot Camp®

(831) 372-7270

ed@brodow.com
Home | Seminars | Sales Seminars | Webinars | Keynotes | Clients | Ed Brodow Bio | Books & DVDs | Articles | Video
Negotiation Boot Camp® is a registered Service Mark of Ed Brodow.
Copyright © 2001-2017 Ed Brodow. All rights reserved.