Keynote Presentations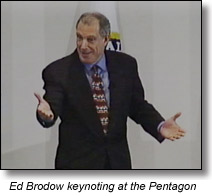 Ed Brodow is an entertaining corporate speaker who impacts audiences with his high energy delivery and practical content. When you book Ed as your Keynote Speaker, you are ensuring that your audience will be in the right frame of mind to maximize their experience of your meeting or convention. Here are some of Ed's most popular keynote topics:

Your humor, inquisitiveness, and professional manner made you stand out as the 'best of the best.'
Learjet
For more information about Ed Brodow's keynotes, email us at ed@brodow.com.


---
Negotiation Boot Camp®

(831) 372-7270

ed@brodow.com
Home | Seminars | Sales Seminars | Webinars | Keynotes | Clients | Ed Brodow Bio | Books & DVDs | Articles | Video
Negotiation Boot Camp® is a registered Service Mark of Ed Brodow.
Copyright © 2001-2017 Ed Brodow. All rights reserved.