Negotiating Webinars
Negotiation Boot Camp®: The Webinar
Interactive 75-minute Negotiating Webinar for up to 1,000 participants, conducted by Ed Brodow personally.

Don't want a full-blown seminar? This Webinar may be your answer. Your employees will upgrade their negotiation skills without leaving their desks. They can even ask questions and interact with Ed during the Webinar. Protect your organization in our challenging economy by making sure that everyone learns the 12 essential skills of successful negotiators. Participants will:
Overcome fears of confrontation
Know where to start and when to walk away
Discover the other side's weaknesses
Be prepared for negotiating tactics
Master the art of listening
Get more concessions than you ever thought possible
The webinar presentation was executed very professionally, and proved to be extremely informative and thought provoking for all the varying ranges of negotiation experience on my staff. The agility the webinar medium provided was ideal as the team is spread across several states.
Strike Construction LLC
These negotiating webinars use the latest technology to bring world-class training to your doorstep economically and with a minimum of logistics. And you still benefit from Ed Brodow's dynamic delivery and personal attention.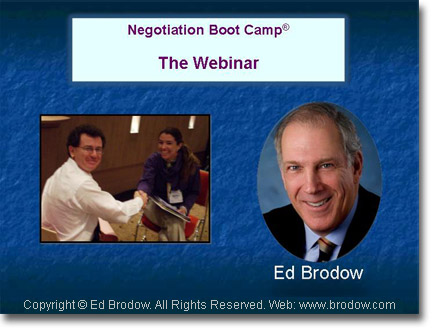 To book a negotiating webinar or obtain more information, contact us via email at ed@brodow.com.
---
Negotiation Boot Camp®

(831) 372-7270

ed@brodow.com
Home | Webinars | Keynotes | Ed Brodow Bio | Books & DVDs | Articles | Video
Negotiation Boot Camp® is a registered Service Mark of Ed Brodow.
Copyright © 2001- Ed Brodow. All rights reserved.